Dear all,
I hope this email finds you well and that you are once again enjoying football in your region as we move forward carefully into what we trust will be a sporting environment less defined by the effects of COVID-19. It is certainly great to see everyone back within their clubs and with training and playing fully back on the agenda.
As we continue to celebrate our Centenary year, we believe we are embarking on a new and exciting chapter for Irish football and I hope you agree that it is our joint responsibility to build a sport and an Association that is united, fit-for-purpose, resilient and relevant for the next 100 years.
The first part of this process is to set out a strategic direction for our game and we aim to do this through our draft FAI Strategy for 2022-2025. Those of you who attended the AGM in late July will have seen the directional document and heard of our commitment to conduct meaningful engagement with all our stakeholders accordingly. We know there are many challenges facing us all but we believe that, through the spirit of collaboration, we can tackle these issues together.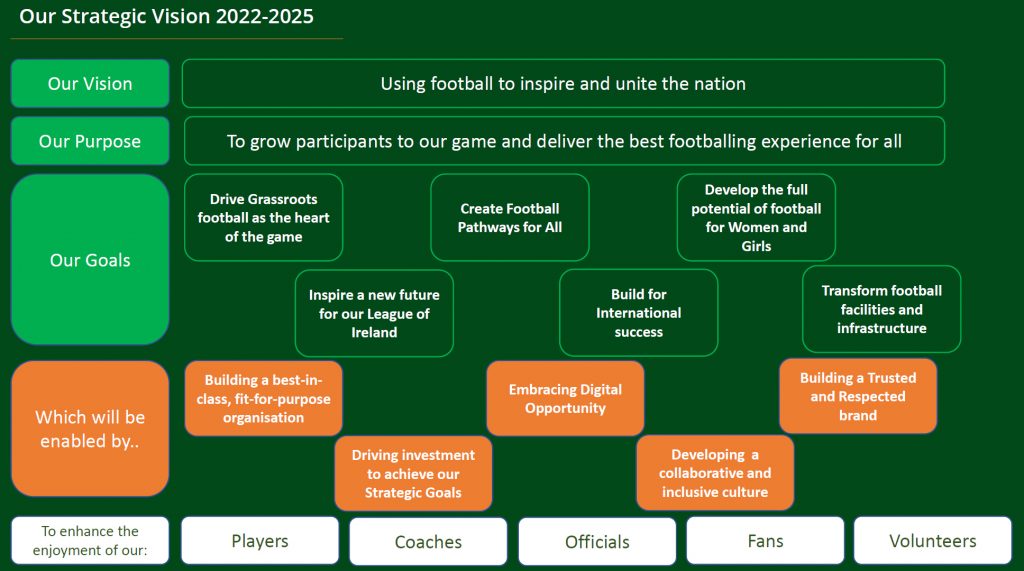 Thankfully as restrictions have eased we are now in a position to conduct these regional town hall sessions nationwide and look forward to debating the future direction for Irish football with you. The format of these three hour sessions will involve a brief introduction of the strategy process, our objectives for the evening and an explanation of the format. After that we will break into groups of six with one FAI facilitator allocated per table to direct the conversation and track feedback as we walk through the six pillars of the strategy. Attached you will find the directional strategy document and can I ask that you spend time to review this before our session as we won't look to present it on the evening as instead we will look to maximise our time together for discussion and debate. We would encourage you if possible to also discuss the document with your committees/colleagues prior to attendance so that you can agree priority areas in advance (it will be hard to cover everything we know so thank you for your understanding in advance that we would like to hear as many views/voices as we can in these sessions).
Please find details of the respective town hall in your region below:
Region: Cork, Kerry & Waterford
Venue: Clayton Hotel, Silver Springs, Cork
Time: Thursday November 18th 2021 (19:00-22:00) (tea/coffee from 18:30)
Please click here to register. All details must be completed prior to attendance as per COVID guidelines issued by Failte Ireland.
If you are unable to attend the physical town hall sessions there are other methods for you to share your feedback. An online written submission portal has been set up on the FAI website and can be accessed by clicking here.
Should you have any queries/issues at all please contact strategy@fai.ie and thank you again so much for your own time, energy and commitment to this process and indeed to Irish football in general – it is genuinely appreciated.
With very best wishes,
Jonathan Hill