The 2020-2025 FAI Referee Strategic Plan was officially launched in FAI Headquarters on Wednesday afternoon, 27th Nov 2019.
Officially launched at FAI General Manager Noel Mooney and the Chair of the National Referee Committee Gerard Perry, the plan hopes to see an increase in referees working around Ireland in the coming years.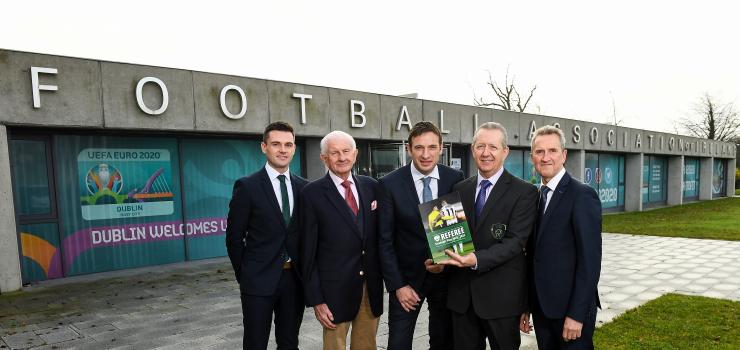 The Strategic Plan will also introduce a 'Respect the Ref' campaign, while there are plans to appoint Referee Liaison Officers to all affiliated grassroots leagues in Ireland.
"The Referee Strategy was created so that we can build on the foundations established by previous plans and to keep pace with the developments across all football programmes," said Perry.
"We hope to facilitate the recruitment and retention of referees by integrating more with league structures.
"The aim is to recruit, retain, support and develop referees to reach the highest standards and service the needs of the game."
Ger McDermott, FAI Club and League Development Manager, says the Strategic Plan is crucial to the future of refereeing in Ireland.
"The five-year strategy is essential to provide us with a roadmap to ensure we recruit, support and retain the number of referees required to service the needs of the game as we grow participation," said McDermott.
"We must also ensure that all referees are afforded the opportunity to develop to the best of their ability, in line with their ambitions.
"As we implement the strategy, respect for our referees will be integral to everything we do. Our objectives will be achieved through collaborative work between all stakeholders in the game."
FAI General Manager Mooney said: "In implementing this strategy, respect for our referees must be at the heart of everything we do. We all have a responsibility to do what we can to change our existing culture which, in turn, will see our players, referees, coaches, parents and supporters continue to enjoy the beautiful game."