Courtesy of B Peelo, B Cotter, S Mulcahy & E Doyle.       
Please note that while all Fixtures are here, the definitive fixtures are published in Monday nights Echo.
I cannot be responsible for errors here.
In the event that your match is cancelled or any other reason e.g. venue change, replaced by another referee, etc. It is your responsibility to contact the Observer Group.
In order to simplify this procedure, the observer to contact for the upcoming season is
Damien O'Mahony who can be contacted at damienfinbarr@gmail.com or 086 340 5169
PLEASE SHOW RESPECT !
WOULD YOU LIKE TO BE A REFEREE IN CORK? 
The FIFA Panel may await you!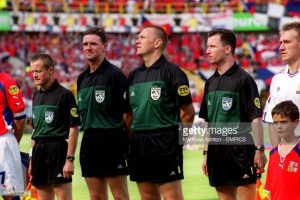 Referee Beginners Course
Feb 17th & 18th In Fota Island Resort. Co. Cork.
Chief Instructor: Eddie Foley, Former World Cup and Euro 2000 Official.
Click for all League Fixtures
Cork AUL
Munster Senior League
CBSL
Cork Youths League
Cork Ladies League
Cork Schoolboys League