The membership of the Cork Branch of the ISRS would like to wish our Midlands branch colleague Daniel Sweeney a speedy recovery following the vicious and cowardly attack last weekend.We obviously and utterly condemn any assault on any person in the name of sport but when this happens to an official, both the FAI and ISRS must take the strongest possible action to deter such horrible and opportunist attacks.
Referees are not made of stone – we have feelings,families morals and decency. We also have unity and we are willing to stand by our colleagues nationwide to support any potential action necessary. Unfortunately, this could have occured at any ground in the country and could happen again this weekend. From schoolboy to senior level the levels of abuse from players, parents and so-called supporters has increased. This will only increase further if it is tolerated. What occured last weekend was not in the name of what we all love – Football.
Get well soon Daniel.
Dan Deady, Chairman ISRS Cork
By Ciaran Mullooly
https://www.rte.ie/news/leinster/2018/1112/1010274-offaly-referee-assault/
FAI Chief Executive John Delaney is to meet the Irish Soccer Referees' Society to discuss an assault on a referee following a football match in the midlands yesterday.
Referee Daniel Sweeney was taken to the Midlands Regional Hospital, Tullamore, with a suspected broken jaw and other facial injuries after the incident following a game in the Combined Counties Football League.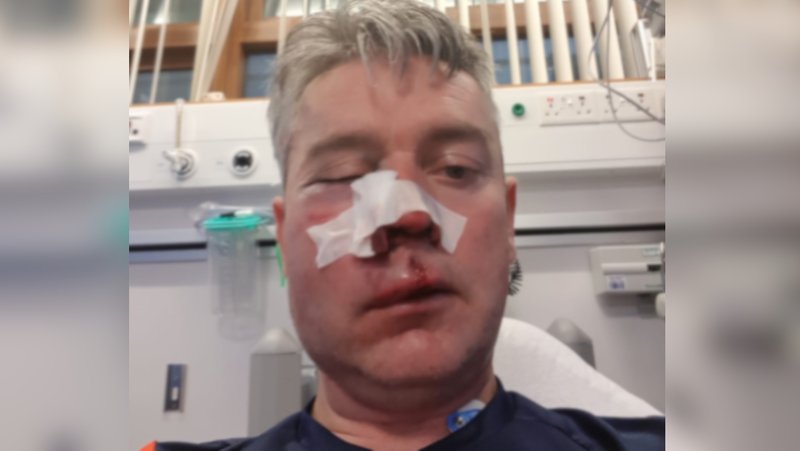 He has since been transferred to St James's Hospital in Dublin to be treated for his facial injuries.
Mr Sweeney will also receive further treatment at the Royal Victoria Eye and Ear Hospital.
The match took place in Horseleap near the Westmeath-Offaly county boundary.
A dispute arose towards the end of the game, which featured the local side and Mullingar Town.
Up to three players and a spectator were then involved in an incident in the car park nearby where Mr Sweeney was injured.
Gardaí in Tullamore were called to the scene and are investigating the assault, which has been criticised by representative groups for referees and league players.
The Irish Soccer Referees' Society President Paul O'Brien said: "Daniel Sweeney is going into surgery this afternoon and it appears his jaw had been broken in two places.
"John Delaney has told me he is taking this incident very seriously and will meet us to discuss what needs to be done.
"We will be asking the FAI to take steps to introduce a new 'Respect the Referee' programme and an educational campaign to go with it."
Mr O'Brien said there is a wider problem with what he called "interference" with referees and that this had been highlighted by the abandoning of six games in the Dublin District Schoolboys League in the last five weeks.
"There is a serious problem here and we have to deal with it", he added.
Secretary of the Combined Counties Football League Chris Hand said the individuals involved in the incident had been identified.
Mr Hand said they would be suspended from all football activity.
Speaking on RTÉ's Morning Ireland, Mr Hand said such incidents were rare but would be followed up with the strongest action possible.
He added that the league will cooperate with and support gardaí. Mr Hand said those responsible "will be immediately suspended from all football activity".
"The referee's report will be brought to a disciplinary hearing. We will follow FAI policy and procedure in relation to how we handle incidents like this, which are very, very rare.
"Once we follow that procedure, we will follow up with the strongest action that we can. We will cooperate 100% with gardaí. We don't want to see this happen at any time."
Mr Hand said the CCFL has not yet been in touch with Mr Sweeney, who he said is "a good man" and had been a referee for a number of years.
The running of the league depended, he said, on volunteers and without their cooperation and the help of people like Mr Sweeney, there would not be football matches.
Mr Hand said the greater football family supported Mr Sweeney and there had been an outpouring of support on social media over the weekend.
By Ciaran Mullooly
https://www.rte.ie/news/leinster/2018/1112/1010274-offaly-referee-assault/