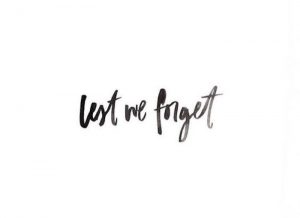 This Page is dedicated to the Memory of some of the Greatest People to grace the fields of Cork Soccer over the years….
(Under Construction … we will endeavor to remember all our Colleagues)
_______
Rory O'Connor was recently honoured at a Cork A.U.L. awards night, here's what they said.
In soccer he was lucky and unlucky. Lucky to have been a privileged member of the best League of Ireland team in living memory – Cork Utd's all conquering squad of the forties. He was unlucky to have been confined to the reserves for lengthy periods because of the brilliance of players who wore the famous green and white jersey. He sought to wear the number two jersey but so also did the country's best ever right-full, Irish international Billy Hayes.
Rory O' Connor was Cork's best known utility player and like Ole Gunnar Solskjaer with Man Utd today he, too, was happy to be involved with a champion squad. 1945-46 was Rory's big year with Cork as he became a regular in the side and his solid consistent displays in defence contributed enormously to Cork Utd's fifth Championship success.
Afterwards Rory engraved his name on the full back's jersey and when Cork Utd went out of football in 1948 he filled the same position with Cork Ath. He was chosen as captain of the possibles side in an Olympic International Trial match in 1948 and though he gave the selectors headaches by scoring a splendid goal for the losers he didn't make it on to the actual team.
Way back in 1939 he lifted Nationals Utd into the Munster Minor Cup final in which they were defeated by a "Big Seanie Mac" inspired Clinton. Rory managed to defy the infamous GAA ban and was Cork's goalkeeper in the Munster Minor Football Championship. Indeed, the multi talented O'Connor showed his versatility by excelling at sprinting and the long jump during his hectic schooldays. Other local clubs to benefit from Rory's dependable play were Parade Utd, Albert Rovers, Local Authorities and Freebooters.
Rory who was born in 1922 began refereeing in the 1950-51 season and a few years later he was elevated to the League of Ireland panel. One of the highlights of his career was his refereeing of the memorable Munster vs West Germany Youths match at a packed Mardyke in 1956.
He also had the honour in 1961 of refereeing the first AOH Cup Final to be played at Flower Lodge.
It is estimated that in a lengthy career Rory has officiated at approximately 8,000 matches and the number of times that he actually sent off players could be counted on the fingers of one hand.
It was with great sadness that we learned of Rory's passing recently at the grand age of 86.Ar dheis Dé go raibh a anam.
_____________
Jackie O'Driscoll RIP
'Mr. Shipping League', Jackie was one of football's true gentlemen!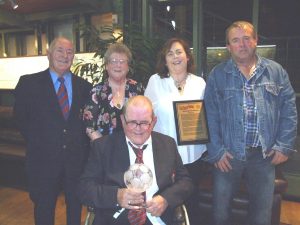 IT was with great sadness that members of the CBSL management committee and the wider soccer public heard of the passing a week ago today of former MFA Vice-Chairman and CBSL Honorary Life President, Jackie O'Driscoll, writes Finbarr Buckley.
His story began in an area now called Sun Valley Drive  on Cork's north side in 1935. Born the eldest son of Dinny, a docker, and Nancy, Jack, along with his sister, Kitty and brother Denis, later moved to Gurranabraher where two of his first great passions took root, singing and harrier racing.  He joined the famous Fair Hill Harriers club after he left school where he pursued his love for the hounds and   trained the top dog at the time, Challenger, to many successes.
After marrying Nancy and moving to Close's Road, Jack worked at the Farmer's Union Bacon Factory in Ballincollig where he played with the company's football team which called itself Olympic after its prized sausage, He was instantly recognisable in the peaked cap in goal for his former employer Farmer's Union, going on to become  the club's league delegate in 1966.He joined the CBSL management committee in 1970 before being appointed as chairman in 1980 and elected a member of the MFA and the FAI Junior Council. He served as a dedicated administrator for over thirty years, becoming known throughout the soccer fraternity as 'Mr. Shipping League', before the association struck gold when it availed of his services as a groundsman at Turner's Cross following his redundancy from the BallincollIg meat factory in 1990.
In 2001 he suffered a stroke which confined him to a wheelchair but his dedicated work in maintaining the playing surface at the 'Cross 'was rewarded when he was given a benefit match at the venue on December 1st 2003. A star studded Cork City eleven defeated a CBSL representative team on a night when football's finest paid tribute to the man unanimously described as 'a giant among the legion of unheralded heroes!'  He was further honoured with a Distinguished Service Award at the Cork AUL and Murphy's Stout Cork Soccer Honours in November 2012. His long battle with illness in recent years never diminished his enthusiasm for football as his recollections of the many people and stories he encountered throughout his career continued to entertain and enthral right up almost to recent weeks when he held the new trophy named in his honour, the Jack O'Driscoll Premier Division Cup, with all the wonderment of a schoolboy holding his first ever piece of silverware. He is survived by sister Kitty, brother Denis (assistant secretary of the MFA),, daughter Siobhan and sons Matthew and Denis and extended family.  Ar Fheis Dé go raibh a anam !
___________
Jackie Morley passes away…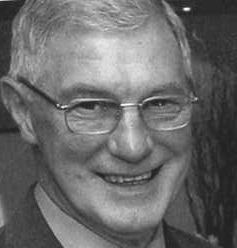 Jackie was renowned in League of Ireland football as a tough but fair opponent and was held in high esteem by his peers.
His League of Ireland career was spent with Cork Hibernians and Waterford. During his time with Cork Hibernians he won FAI Cup runner up medals in 1960 and 1963. He was signed for Waterford in 1967 by the player-manager of the day, Martin Ferguson, Alex Ferguson's brother.
During his time at Waterford he won four League of Ireland Championship medals and was part of the three in a row team that claimed League titles in 1967/68, 1968/69 and 1969/70. He also won a League Championship medal with the Blues in his final season at the club, 1971/72. During his time with Waterford, they reached a further two FAI Cup finals in 1968 and 1972 but the Cup winner's medal was to elude him.
Jackie also enjoyed many high profile European matches with Waterford against clubs such as Manchester United and Glasgow Celtic and scored a memorable goal against Galatasaray in the 1969 European Cup match in Lansdowne Road.
Both of his sons played League of Ireland football and Pat remains one of the most prolific goal scorers in the history of the League
Jackie is survived by his wife Joan and his children Pat, David and Sheenagh.
Commenting on behalf of the Association, FAI CEO John Delaney said: "I was very saddened to hear that Jackie Morley had passed away and I extend my sincere condolences to his wife and children. He was a great footballer and a close family friend. We will pay a special tribute to mark his contribution to Irish football at our next international match against Serbia in March."
FAI President Paddy McCaul paid his condolences to Jackie's family. "Jackie made a great contribution to Irish football during his career with Cork Hibernians and Waterford. Our thoughts and prayers at this time are with his family and friends."
On behalf of everyone involved with The Irish Soccer Referees Society Cork Branch, may I extend our deepest sympathies to the Morley Family at this sad time.
'Ar dheis De go raibh a anam'
John Linehan.
Jackie Morley – A Soccer Legend ( by Finbarr Buckley )
'One of the classiest defenders, hugely respected both on and off the field.'
Jackie Morley started off by playing Gaelic football for Sullivan's Quay School & club hurling for Redmonds before joining Evergreen United as an amateur in 1954 at the age of 18. In September 1956 he was signed by West Ham United where he made seven first-team appearances before returning to Cork three years later. He joined Cork Hibernians shortly afterwards where he won two cup runners-up medals in 196O & '63. He moved on to Waterford in 1968, winning league titles in '68, '69, '70 & '72, but had to settle for runners-up spot again in the cup finals of 1968 & 1972. He worked for the Cork Examiner and is the father of former Cork City striker, Pat.
__________________
We were truly saddened to learn of the untimely death of our friend Mr Paddy Byrne (Chairman of the Cork Youths League & Treasurer of the Cork AUL).
"Just to say what a great guy Paddy was and a very good friend to the Referee Society in Cork, a gentleman through and through and will be sadly missed by all in football. Our sincere sympathy to his Family and close friends"
From The Cork Branch of the ISRS, (PRO, Gene Stephens)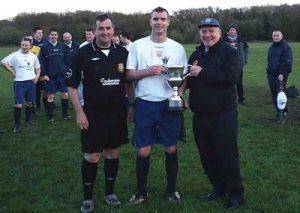 REMEMBERING PADDY Barry Peelo
Paddy Byrne, chairman of the Cork Youths League and treasurer of the Cork AUL, who passed away overnight, after bravely battling illness for the past few years, will be a huge loss to local football.
Aside from his obvious administrative skills, Dubliner Paddy was well known for his courtesy to one and all. In some ways he was a politician, of the best kind, seeing what was possible and bringing together people, who didn't always see eye to eye, to get the job done.
Paddy began playing football with Richmond Boys where one of his opponents was Johnny Giles, then catching the eye with Stella Maris.
Paddy went on to play senior league football with St Patrick's, Bluebell United, and Johnson Mooney and O'Brien. Indeed, he played centre half with the LSL representative side in a game versus the MSL.
Paddy moved to Cork in 1975. He only recently retired having worked with BSS for well over 30 years and was a keen golfer, being a member at the Killarney and Lee Valley clubs. He also enjoyed the odd swim.
He joined Ballincollig as soon as he moved to Cork, beginning 23 years as a member, and played a few years with them. He soon joined the committee as assistant treasurer before going on to become treasurer and eventually chairman (a position he held for 14 years, up to his joining the AUL in 2000).
Paddy went on to be treasurer of the AUL and has been a member of the Cork Youths League management committee, first as treasurer and most recently as chairman, since its foundation in 2005/06.
He will be missed, not least by wife Dymphna and his family, to whom we in football offer our sincere condolences.