I recently spoke to Kevin O'Sullivan, who referees the FAI Youth Cup Final 2016, who gave me an insight into his love of refereeing and his achievements to date as such a young age.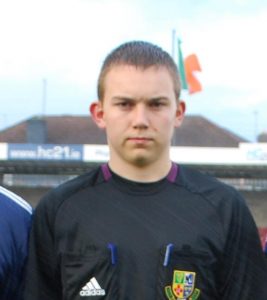 From a young age when both playing and watching football I was always fascinated by how the referee managed to control the game while seemingly under so much pressure from players, technical staff and spectators. I was keen to try refereeing and see if I had the capability to control a game under that pressure. In fact, I was so eager to try refereeing that I sat the beginners course twice; first in August 2010 and again a year later as I was too young to referee first time around. Originally, I had planned to continue playing while I tried refereeing but as I picked up a long-term knee injury which kept me out of playing for almost eight months, I decided to join the Cork branch of the ISRS and continue my refereeing education.
As I had expected, I loved refereeing from the start and had a very enjoyable first season, culminating in refereeing a schoolboys cup final at Turners Cross which was a proud moment for me given I had never managed to make it there as a player. Since then, due to a combination of hard work, valuable advice from more experienced colleagues both at grassroots and elite level and no shortage of very tough games, I have managed to progress in my refereeing career. I have now refereed in excess of 500 matches in my five and a half seasons, including the very proud experience of officiating at three international matches, an U17 national cup final, an international youth tournament and in the next few weeks an FAI Youths Cup Final and an FAI Junior Cup Final. While I am proud of my progress in achieving these appointments, I know that there is a very long road and a huge amount of commitment and hard work ahead to reach the level to which I wish to get to. However, this pathway is made easier by the help and support I receive from my colleagues in the ISRS, the observers group and the coaches at the FAI Referee School of Excellence programme.
Outside of refereeing, I am currently in my second year of the BSc. Finance degree in UCC, following which I wish to pursue a career in the accountancy sector. I am also involved in both Cork County and UCC Cricket Club and presently hold the position of PRO for the Irish Universities Cricket Association.