by Barbara O'Connell. The Echo, Monday, March 18, 2019.
Former Cork referee Keith Spoonley recently picked up a special merit award for his contribution to soccer over a period of 50 years at a special awards ceremony. Seventy-nine year-old Spoonley has occupied many roles in the world of football in Cork and he was thrilled to receive the award for his contribution to Cork soccer from his colleagues in the referees branch. "It's an absolute pleasure to receive this award from my colleagues in the Cork Branch," said Spoonley. "Many great guys have received this award in the past and I am delighted to be part of such a great bunch. "This award is mainly given to assessors or observers that have retired, some great guys such as Frank Casey, Eoin McCarthy, and Eddie McKeogh, so it's an honour to be added to that list."
Spoonley spent 50 years involved in the game and here he tells us about his journey. "These 50 years involved in soccer have really gone by so quickly. "Over the 50 years, I have experienced the game in so many different capacities and I can honestly say I thoroughly enjoyed every experience. "I was a player/referee/assessor/ tutor and enjoyed my involvement in the game in each of those roles. "After playing with Fairview from the northside of the city for many years I then moved to Avondale where I finished my playing days. "I still wanted to be involved in the game so I went along to the British Legion Club in Oliver Plunkett Street where I was tested on the laws of the game by the inspector at the time, Owen McCarthy.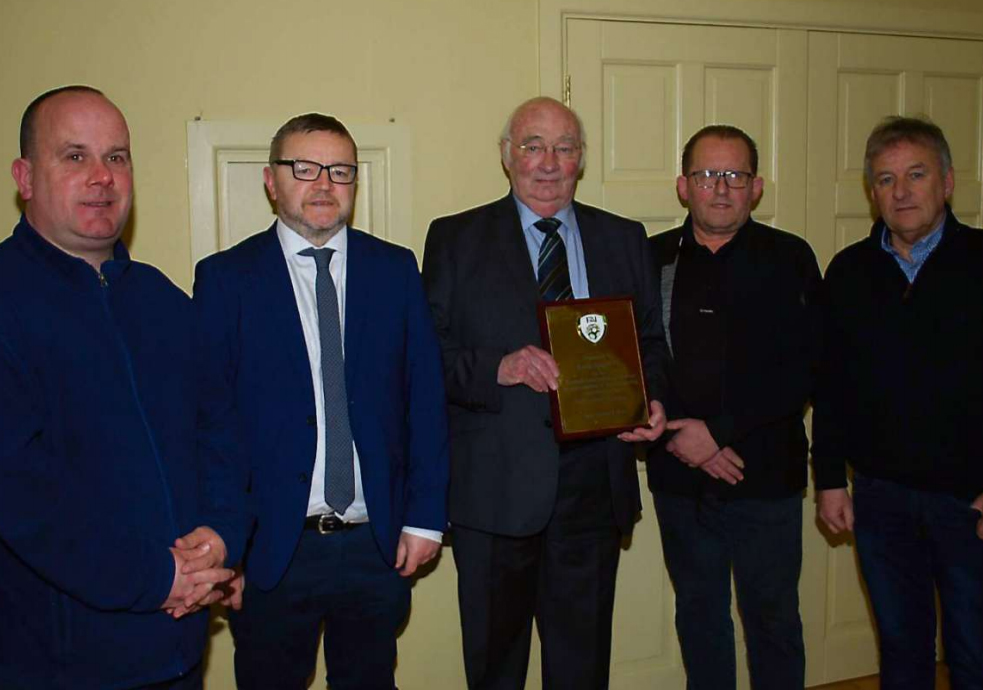 "This is where it all began for me. "My first game as a referee was Crosshaven versus Blackpool Celtic in Crosshaven and that was 50 years ago, can you imagine that?
Time has flown by so quickly. "I have had many highlights on the but the ones that stick out most are the intermediate cup finals as linesman and many Munster Junior Cups in Cork, Limerick, and Waterford.
I did many finals in the Business League, or the Shipping League as it was known then, and my last final was the AOH Cup final in Turner's Cross
and all of those games were memorable occasions. I also refereed the semi pros from England v Munster Senior League selection and that was another highlight."
Due to ill health, Spoonley had to give up his role as a referee assessor, however, he highly recommends to anybody wishing to get involved in the game at some capacity, that refereeing would be a great choice.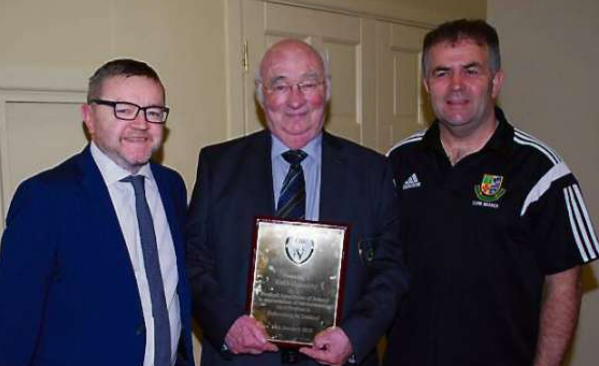 "I would recommend any young person to take up the whistle as opportunities are far greater now than it was my day. "The bit of advice I would give to people is that you will need to be calm and use a lot of common sense when it comes to dealing with players and you will get the best of learning on the laws of the game from the referee society."
The grandfather of five is now kept busy looking after his grandkids who he idolises and, according to Cork branch vice-chairman Eddie McNally, it's a much deserved break. "With over 50 years experience as a player, referee, and assessor, I am delighted that Keith is now able to sit back and relax and enjoy his time with his grand-kids," McNally said.
"I am delighted that he has been recognised for his tiredless work in foot- ball over the past half of a century.
"Keith has helped many a referee over the past 20 years develop their careers and on a personal note he was a major influence on my career, helping me go from grade four to the National League panel.
"We at the branch wish Keith all the best in the future and hope to see him at the occasional game."