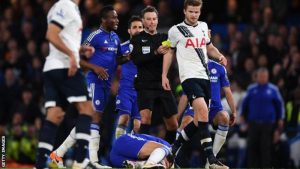 Ex-Premier League referee Mark Clattenburg says his comments about "allowing Tottenham to self-destruct" in a game at Chelsea in May 2016 have been "misinterpreted".
Spurs needed to win to retain any hope of winning the league but drew 2-2 and conceded the title to Leicester City.
Clattenburg said he could have sent off three players but told NBC's Men in Blazers podcast last week that he "went in with a gameplan" so he could not be blamed for Tottenham's result.
However, speaking to BBC Radio 5 live's Sportsweek programme on Sunday, the 42-year-old said: "I probably said it in the wrong way.
"One thing I certainly don't want to do is be the centre of attention."
Former top-flight official Dermot Gallagher said Clattenburg's handling of the game at Stamford Bridge was a "gamble too far", while ex-Arsenal striker Ian Wright said it was "baffling".
Clattenburg, who is now head of referees in Saudi Arabia, booked nine Tottenham players – the most for one team in a Premier League match – in the bad-tempered game in which Chelsea came back from two goals down.
The two clubs later received record fines from the Football Association and Spurs midfielder Mousa Dembele was also given a six-match ban for violent conduct against Chelsea striker Diego Costa.
"Tottenham self-destructed when Chelsea equalised," added Clattenburg.
"When Tottenham lost their discipline in the last few minutes, it was an opportunity for me to say: 'OK, the game is finished, do I want to be the centre of attention?'
"Tottenham drew the match which meant they had lost the title. I always said my gameplan was not to be the centre of attention, not to cost anybody the title and not to influence the result."
'Good old trick of mind games'
Clattenburg also backed referee Michael Oliver to put aside comments made by Manchester United manager Jose Mourinho when he takes charge of Sunday's derby against Manchester City.
Mourinho claimed City's players "lose their balance very easily – a little a bit of wind and they fall", while also accusing them of tactical fouls.
"It's the good old trick of mind games," said Clattenburg.
"I'm sure Michael Oliver, who is one of the best Premier League referees that we have got at the moment, will be mentally and physically prepared.
"Regarding the comments from Jose Mourinho, I'm sure Michael is experienced enough to ignore them and judge the game as it is.
"He will probably try to manage the game verbally before he goes for the yellow card. But, if a yellow card is needed, he has to show it."