Referees and their decisions: We've manufactured a crisis
Date published: Wednesday 7th February 2018 9:32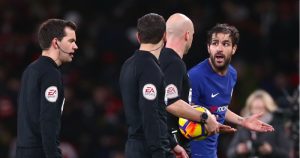 If it feels like there has never been more discussion about refereeing decisions, that's certainly the view of the oldest manager in English league football. Speaking in his interview to BBC Sport on Sunday, Roy Hodgson bemoaned the focus on controversy at the expense of football."I suppose I hark back to the days when maybe people watched football matches," Hodgson said. "They talked about what happened over 95 minutes and not what happened within 40 seconds of the 95 minutes because that's all my interviews ever seem to be."Was it a penalty? Was it not a penalty? Should the referee give a free kick? Was it handball? And I would sometimes like to get back to discussing how well we did in the second half, how well Newcastle did in the first half."

Cue the camera switching back to the Match of the Day 2 studio for a panel of pundits (none of whom were qualified officials) to immediately debate the validity of a refereeing decision. Textbook.

We have a pandemic, a ref-olution where everything must be pored over for two or three days under the questionable banner of analysis. Former referees with newspaper columns comment on current referees and often disagree with them and each other. If there is at least some benefit in hearing their view, the same cannot be said for the following paragraph on the BBC Sport website, sold as a news story:
'Is Wenger right about the Gunners being harshly treated? A vote on the BBC Sport website saw 53% of people say they agreed with Wenger's view that Arsenal don't get the rub of the green very often.'
Maybe Wenger has a horse in that race? Maybe Arsenal supporters and fans of rival teams might just have voted in alignment with personal preference rather than true belief in referee bias? Maybe 53% isn't quite a statistically significant majority? Maybe this isn't news?
– – – – – – – – – – – –
The referee in any sport has traditionally been seen as the pantomime villain, the bad guy. Match-going supporters boo, catcall and sometimes abuse the 'bastard in black', but this was usually confined to the 90 minutes in the ground, plus a few more on the walk home.
Somewhere along the line, things changed. The refereeing witch hunt has become Saturday and Sunday night entertainment show, every decision replayed and dissected in the search for precious incompetence.
The common riposte to criticism of the TV show I'm calling 'Are they right to feel aggrieved, Alan?' is to claim refereeing standards have declined. That's a view cemented in the football public's subconscious by the coverage itself. The more you question, the more authority is eroded.
It also doesn't really bear any scrutiny. In March 2017, PGMO revealed that referees make an average of 245 decisions per 90-minute match, one every 22 seconds. On average, they get five of those decisions wrong, a number that has not changed significantly.
More incorrect decisions are not being made, but more coverage is being given to decisions that may cause disagreement. Those that are clearly wrong actually have little use, because one former footballer cannot shout over another former footballer about something that is absolute. Twenty-four hour news coverage uses dispute as its fuel. Simple disagreement quickly becomes controversy; controversy becomes outrage.
This may be sold by broadcasters as a hunt for truth and justice rather than a hunt for the witch, but the result is the same. You see, controversy becomes a self-fulfilling prophecy. Tell a (certain type of) football supporter often enough that they have cause to be outraged, and you'll soon find you cannot turn off that outrage. A culture of blame becomes a culture of hate.
Even VAR, sold to us as an assistant for referees, barely feels like that. Many of them fear that it will be used to 'prove' that they are incompetent and to create an extra layer of controversy where none previously existed. We're now having debates about a referee's decision to refer a decision to another referee. It's like a tedious decision-ception.
Football's general short-termism also plays a role here. With patience in players and managers ever decreasing, the referee is passed the buck in a culture of blame. Every action is booed by fans of at least one team and sometimes both. Trial by TV jury hardly helps.
More important than whether a penalty call was correct or how successfully a VAR trial is rolled out is that we are sitting on a ticking time bomb in our treatment of referees. By the last count (a study published last year) 60% of grassroots referees said they had experienced personal verbal abuse at least every other game. As many as 19% said they had been subject to physical harm.
The Premier League is only offering a miserable example. Players are continually caught screaming "fuck off" and worse at officials and are never punished. Managers call into question their honesty and integrity and serve brief touchline bans. The FA Respect campaign was well-intentioned but never had the buy-in of the highest-profile managers and players, at least not according to their subsequent behaviour. Actions speak louder than words, but the words are still shouted aggressively.
– – – – – – – – – – – –
Paid far less than those they supervise and so unable to give up what they do and remain financially comfortable, referees are virtually powerless to make a stand. Even if they spoke out against their treatment, would anyone truly listen? Those at the absolute pinnacle of the profession receive up to £70,000 a year, but only a very select few. It's a maximum 20-year career and likely only half of that time can be spent on those wages. The vast majority do it for the love of the sport. That love that is being tested.
'Humans make mistakes' does not merit a headline. On Sunday, Mohamed Salah was named Man of the Match against Tottenham. Only 50% of his shots were on target. Almost 30% of his passes failed to find a teammate. He lost almost 60% of his duels. He lost possession 16 times.
It is an imperfect comparison (some of the things Salah tried will have been harder to pull off than awarding the correct decision), but you take the point. While we focus on what the best players do well, we only ever focus on – and certainly only remember – what a referee gets wrong. We also remember the ones that go against our teams rather than the ones that go for us.
The great irony here is that it is the fevered rush to question refereeing standards that will ultimately cause their downfall. Former referee Pierluigi Collina has repeatedly spoken of his concerns that we will soon see a vacuum of referees being developed due to the climate of blame that we have created around the profession. If people stop bothering to try, we'll really see the standards drop.
Having manufactured this refereeing crisis, it is down to the media to rise above it. Analysis of matches by broadcasters has – for the most part – never been of a higher quality, but fuelling controversy helps nobody. The ref-olution does not need to be televised.
Daniel Storey