Congrats to Vinnie Coonan Pat Mc Auliffe Referee of the Year 2020.
Vinnie Started Reffing in 2014/15 Season 3 seasons in WWEC Society.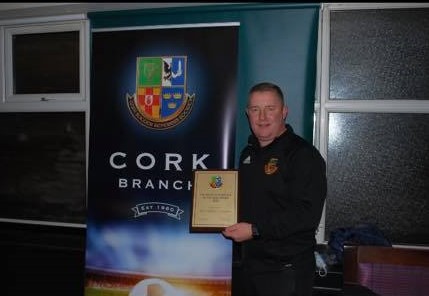 Moved to Cork Branch in 2017/18 Season on MSL panel. AUL following season 18/19 then back to MSL last season 19/20 and currently 20/21. This season is his 4th season in the Cork Branch.

Biggest Appointments:
John Hayes Trophy Final 2018 – Leeds v Ringmahon

FAI Junior Cup Semi Final 2019 – At Michael's v Glengad Utd

AUL City Challenge Cup Final 2019 – UCC v City Wanderers

AUL Corinthians Cup Final 2019 – Carrigtwohill Utd v Catherdal Celtic

FAI Intermediate Quarter Final 2020 – Ringmahon v Corinthians

Munster Senior Cup Final 2020 (AR) – Cork City v Rockmount

FAI Junior Cup Semi Final 2020 – Fairview Rangers v Athenry FC

Promoted to Category 1 2020.

Congrats Vinnie hard work pays off.