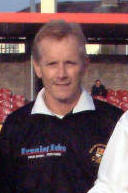 Billy Falvey started refereeing at the young age of 16 when he refereed his first game in the Cork Schoolboys League in 1963.
At that time there were no official refereees were schoolboy games. Matches were voluntary and Billy used to do games when he wasn't playing with his club, Glasheen.
He was 16 years old and this continued for 9 years when along with Michael O'Brien (ex Bishopstown F.C.), Liam McCarthy they formed the Cork Amateur Referees Society solely for schoolboy football.
They were later joined by Willie Long and Con Long, among others. That was 1972. Their biggest achievement was lining to Eddie Mullins at a schoolboy's international. Ireland vs France in Flower Lodge. Captain of Ireland that day was now referee Finbarr Murphy.
"That was a huge honour for us as amateurs and it was history in the making with amateur linesmen and a professional referee. It certainly raised some eyebrows!"
Billy joined the pro ranks in 1975 and went onto a long and successful career.After taking a break for two years, due to an injury, he went onto officiate at every A.U.L. final.
He had the honour of refereeing the A.O.H. Cup Final in 1983, a game in which Aiden O'Regan played in goal for Central Rovers. He also refereed the Inter League Final between the Munster Senior League and the Leinster Senior League that year. 1983 was also the year Billy was promoted to the League of Ireland panel where he spent 3 years but resigned due to the system being strangled by the more senior people.
The Branch celebrated 25 years in 1985 and it was a great occasion for Billy as he was Chairman of the Branch at the time.
1993 saw Billy being honoured with A.U.L. Referee of the year and that year he refereed 3 A.U.L. Finals, Oscar Traynor Cup Semi Final in Limerick and Inter League Final in Turners Cross.
1994 was a successful year in the Munster Senior League for Billy, culminating in refereeing the Intermediate Cup Semi Final; Temple Utd vs Bluebell United (2-2), the Keane Cup Final and his final game before retiring to become a referee assessor; Rockmount vs Avondale.
Billy spent 5 years as a referee assessor, before returning to refereeing again, and this year he refereed the County Cup Final, the Linnane Cup Final and an A.O.H. Cup semi-final. He was also honoured to referee the Snickers F.A.I. U17 Cup Semi Final; Charleville vs Kingdom Boys from Kerry in Charleville and was appointed as fourth official in the final played in Tralee.
Despite all the finals, Billy says that his biggest honour was to receive Honorary Membership of the Society.
"To be honoured by your own is a wonderful feeling and something that every referee should strive for."
Billy's wish for the future is to promote refereeing to achieving a standard that will enhance the referee, society and football in general.
"The F.A.I. are now beginning to put resources into coaching and this is a long overdue development. And long may it last. Referees are special no matter what code they officiate at."
This is just a short insight into the illustrious and distinguished career of Billy Falvey, a career that started way back in 1963 at the young age of 16 when he would volunteer to referee schoolboy football when he wasn't playing with his own team, that has seen him referee in a cup final of all the AUL cups and receive many other prestigious appointments, and that has seen him become Chairman and Honorary Member of the Cork Branch of the Irish Soccer Referees Society
After a short time accessing again Billy decided in 2008 to return to his roots with the Schoolboys League who I am sure will benefit from his extraordinary talent. Indeed many Referees are now going to schoolboy games just to get an insight into this talent and try and learn from it