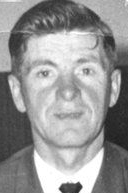 There is no other person who has contributed as much to the development and growth of the Cork Branch as the late and much loved Derry Barrett.
Former society president, Willie Bradley paid this tribute to his good friend on the occasion of his retirement on February 24th 1997. "Derry has set standards that will be hard to equal, let alone surpass. I doubt if there is anyone else that did so much for the development of the game, and achieved so much through the twin perspective of playing and refereeing"
Since joining the branch in the early sixties, when he was persuaded by the prominent referees, Charlie Duggan, Jack Cooke and the then branch secretary, Frank Casey, Derry has served on numerous occasions at committee level. He has been elected chairman on no fewer than six occasions and vice chairman on a further four. Perhaps, his finest achievement was his election as President of the Irish Soccer Referees' Society in July 1980. The respect he commanded throughout football circles in Ireland was enormous. A former branch secretary spoke of Derry as being "revered in society".
He was born in the heart of Cork City, the Coal Quay, one of four sons to Bartholomew and Ellen Barrett. In between playing gaelic games, he played junior football with Mountview, Brideville and St. Paul's. It was while playing with Paul's and the chance unavailability of regular goalkeeper, John O'Connor, that Derry stood between the posts and impressed the watching Kevin Dillon to such a degree that he contacted Frank Desmond, a director of Evergreen United, with a view to signing the promising goalkeeper.
Derry made his debut on December 2nd 1951 against Dundalk, and continued to play at senior level for nine years, appearing in the all-Cork 1953 F.A.I. Cup Final with Cork Athletic, as well as representing the League of Ireland on three occasions, against the Irish, Scottish and English Leagues. His outstanding form in the run up to the 1953 cup final not only caught the eye of fans and media alike, but also the international selection committee, who selected the young custodian as reserve to first choice Jimmy O'Neill for the forthcoming World Cup Qualifier against France at Dalymount Park Sunday, October 4th 1953. He became the Republic of Ireland's first reserve goalkeeper for the following World Cup ties with Luxembourg and Switzerland.
Upon finishing his career with Glasheen and taking up refereeing, in 1961 in the AUL and Munster Senior League, Derry progressed onto the League of Ireland panel in 1965. In 1970, he refereed the three match F.A.I. Cup Final between Bohemians and Sligo Rovers and the Dublin City Cup Final between Limerick and Waterford. In 1971, he took charge of the prestigious inter-league clash involving the League of Ireland and the English League at Lansdowne Road. In 1973, he was appointed to handle the first-leg final of the Texaco Cup at Shamrock Park between Portadown and Bohemians. The tie played in Portadown emphasized the esteem at which he was held at that time that the Irish League would see fit to appoint officials from the Republic. Along with his own appointment, Derry must have had a special feeling of satisfaction to have been assisted by his nephews, Barry Kearney and Kevin O'Sullivan.
Following his appointment to the F.I.F.A. and U.E.F.A. panel in 1968, Derry's list of European duties makes interesting reading; 1968 European Cup: Valur(Iceland) v. Benfica, 1969 World Cup: Scotland v. Cyprus, 1970 European Cup Quarter Final: F.C. Basle v. Ajax Amsterdam, 1971 UEFA Cup: Reykjavik v. Tottenham Hotspur, European Cup: Barcelona v. Steaua Bucharest & P.S.V. Eindhoven v. Real Madrid.
In 1972, he refereed the unusual double of an amateur international between England and Malta, and a schoolboy international between Ireland and Wales.
In his retirement season (1976) from the League of Ireland and UEFA panels, he was the man in the middle of a youth international involving England and Wales.
He continued to officiate in local football up to the 1995/96 season, maintaining his fitness by walking to and from the B.& I. in the morning and afternoon during his lunch hour. He covered all major finals at local level, including an unprecedented three AOH Cup Finals. He continued to contribute hugely to the work of the society, especially the encouragement of new referees. He was always willing to assist anyone in any aspect of refereeing. He was the leading example in all that was good in refereeing. His untimely death on Friday, July 31st 1998 "has left a vacuum in our game", as Bill George wrote in the Evening Echo. He may no longer be with us, but he will never be forgotten by anyone who had the pleasure of being in his company.
Anyone who has played junior football over the past twenty years and had the benefit of viewing Derry's refereeing ability would inevitably have ranked him among their favourite referees. He commanded the respect of players and officials alike, in his own unique way. It's rare that a man who makes an absolute virtue of complete honesty is well loved, for he most inevitably upset people along the way simply by speaking his mind.
Ar dheis De a raibh a ainm.
by Finbarr Buckley